Asphalt Emulsion Plant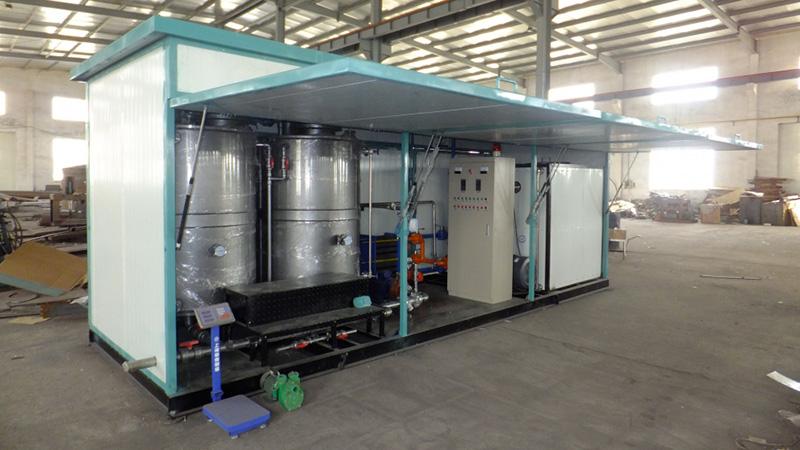 Feiteng's asphalt emulsion plant is tailor-made for manufacturing emulsified common asphalt and modified asphalt, which are primarily used for slurry seals or micro-surfacing treatment.
In the emulsification process, the melted bitumen is dispersed mechanically in a solution of water stabilized with surfactant — or commonly known as emulsifying agent or emulsifier. The size of emulsified asphalt droplets is generally as small as 0.1μm.
Substances involved: melted asphalt, water, emulsifier, etc.;
Production process: with a specific ratio of asphalt and emulsifying solution, emulsified asphalt is produced by passing through a colloid mill for breaking asphalt into small droplets. Then final emulsified asphalt products will be cooled, and loaded for transportation.
Heating method: there are electric heating, thermal oil heating and oil-fired boiler for you to choose. In addition, specifically designed asphalt heating and storage tanks are also available for facilitate heating and storing asphalt, as well as produce high temperature thermal oil. It is a perfect solution for you to heat up piping circuit and water used in emulsified asphalt production process.
Technical parameters
| | | | | | | |
| --- | --- | --- | --- | --- | --- | --- |
| Model | Production capacity (t/h) | Fitness | Proportion adjustment range | Proportional control precision | Total power (kw) | Dimensions (L×W×H) |
| RL-6 | 4-6 | 1-5 | 10%-70% | 1% | 34 | 6x2.2x2.5 |
| RL-10 | 10-12 | 1-5 | 10%-70% | 1% | 42 | 6x2.2x2.5 |
| GRL-6 | 6-10 | 1-5 | 10-70% | 1% | 34 | 6.8×2.2×2.53 |
| GRL-10 | 10-12 | 1-5 | 10-70% | 1% | 42 | 7×2.2×2.53 |
| QRL-6 | 6-10 | 1-5 | 10-70% | 1% | 34 | 6.8×2.2×2.53 |
| QRL-10 | 10-12 | 1-5 | 10-70% | 1% | 42 | 7×2.2×2.53 |
Performance parameters
Model
RL-6
RL-10
GRL-6
GRL-10
QRL-6
QRL-10
Configuration
basic configuration
basic configuration
medium configuration
medium configuration
high configuration
high configuration
Production capacity (t/h)
4-6
8-10
6-8
10-12
6-8
10-12
Asphalt type
common asphalt
common asphalt
SBS modified asphalt
Tank material
stainless steel tank
stainless steel tank
RPP plastic tank (corrosion-resistant)
Emulsifier pipe material
carbon steel
carbon steel
RPP pipe fittings (corrosion-resistant), stainless steel pipe fittings (acid and alkali resistant)
Asphaltpumping
adjustable-speed drive
adjustable-speed drive
variable frequency drive
variable frequency drive
variable frequency drive
variable frequency drive
Emulsification equipment
colloid mill
colloid mill
emulsion mill
emulsion mill
emulsion mill
emulsion mill
Finished product processing
transition tank for finished product temporary storage and sampling
heat exchanger for reducing the temperature of emulsified asphalt, and prolong storage time
Finished product content detection
no
no
yes
Control mode
manual
manual
manual
manual
automatic
Machine structure
skid mount
skid mount
skid mounted or containerized (optional)
Dimension (L×W×H)
Max. 7000×2200×2530mm, can be placed in 40 foot shipping container, can be shipped by land or sea
Features
Mix proportion can be set within a range 10% to 70%;
High proportional control precision, ratio error less than 1%;
Emulsification equipment, as it plays core role in emulsification process, the stator and rotor of which are made of stainless steel for its strong resistance to abrasion and corrosion;
All parts contact emulsifier are made of high corrosion resistant materials, which are robust and adaptable to produce emulsified asphalt with different PH values.
Asphalt pump is controlled by variable frequency drive, ensuring stable operation, and accurate mixing ratio;
Content detection unit is equipped to enable emulsified asphalt is qualified:
The solid content detection unit is able to display finished emulsified asphalt proportion directly without flow meter. Through three sets of temperature sensors, so asphalt temperature, emulsifier temperature, and finished product temperature can be obtained by use of dynamic solid content algorithm.
High efficiency heat exchanger is equipped:
Using heat exchanger for cooling finished emulsified asphalt increases stability of asphalt storage. Simultaneously, cooling water can be re-heated for production process of emulsified asphalt. In simple terms, only first tank of water need to be heated, then water used for subsequent production processes are all heated by heat exchanger.
Fully automatic controlling by PLC system;
Cases Study
Video Show