DLT Series Thermal Oil Heating Asphalt Barrel Melter
DLT Series Thermal Oil Heating Asphalt Barrel Melter, Bitumen Drum Decanter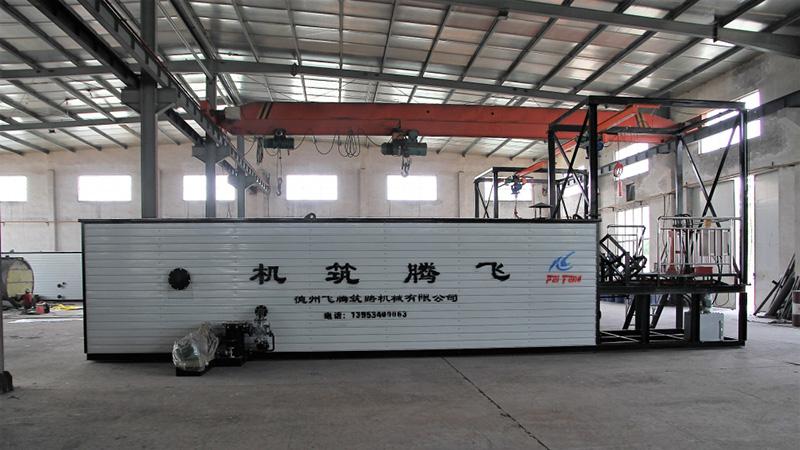 DLT series asphalt barrel melter is powered by thermal oil boiler to heat up steel drum for asphalt melting. Heating coils inside the asphalt barrel melter raise the internal temperature by continous hot thermal oil, through which the asphalt can be re-liquefied. Then the melted asphalt drops from drums, and will be collected in asphalt tank at bottom.
This series bitumen equipment is typically used at places where thermal oil boiler is available and heating capacity of which is sufficient for melting bitumen.
Technical Parameters
| | | | | |
| --- | --- | --- | --- | --- |
| Model | DLT-4 | DLT-5 | DLT-10 | DLT-15 |
| Production capacity (t/h) | 3-5 | 4-6 | 8-10 | 10-15 |
| Bitumen tank capacity (m3) | 7 | 10 | 15 | 20 |
| Drum quantity | 14 | 18 | 28 | 42 |
| Number of drum rails | 2 | 2 | 2 | 3 |
| Dimension (L x W x H) (m) | 7.9×2.2×2.55 | 9.1×2.2×2.55 | 12×2.2×2.55 | 12×2.8×2.55 |
| Total power (kW) | 15 | 15 | 17 | 17 |
| Thermal oil heater capacity (Kcal/hr) | 300.000 | 400.000 | 600.000 | 800.000 |
Features
Due to indirect heating of thermal oil to raise the internal temperature uniformly for asphalt melting, it efficiently prevents asphalt from aging during heating.
Because of indirect system doesn't need built-in heating system, so operation will be simple with less problems.
This asphalt melter is equipped with hoisting unit to transfer asphalt drum which opens upward, and place the drum on tipping unit for turning over. This significantly reduces labor intensity, while still avoiding any melted asphalt spill from the equipment, minimizing asphalt loss and environmental contamination.
The drum tipping unit has rotary shaft to facilitate push the drums over so that the drum opens downward, this further decreases the use of personnel.
There are two parts in this asphalt melter, heating chamber at upper part and melted asphalt storage tank at lower part. The heating coils located inside heating chamber transfers heat to steel drums effectively, enable asphalt to be rapidly released from drums and dropped into storage tank laid with heating coils at bottom for further heating until it completely liquefied. It features larger heat exchange area, and higher melting speed.
Self-closing doors are designed at both front and rear sides of the melting equipment. These doors will be quickly and automatically closed when a single drum passes, it helps to reduce the heat loss, as well as gives facility to enter and exit of drums.
Melted asphalt is pumped out through the bitumen transfer pump, and bitumen filter is assembled in the pump to filter impurities from asphalt.
The heating chamber and storage tank are insulated with 100mm rockwool and wrapped with pre-coated steel sheet, ensuring better insulation performance, and keeping heat loss to a minimum.
All the electrical components are introduced from internationally known brands, so the asphalt melting unit maintains a stable operation during decanting process. In addition, operation safety is also guaranteed by implementing of centralized controlling and monitoring temperature of asphalt and thermal oil. And sound prompting with indicator light flashing will be activated automatically when liquid asphalt level exceeds a set control limit.
With integrally built structure, this asphalt melting equipment is convenient to be transported and installed. Users only need to assembly bitumen pumps, hoisting unit and other auxiliary units used for transferring asphalt.
Cases Study